The connected age is upon us. Organisations and companies around the world have, sometimes unwittingly, moved into this new paradigm.
This paradigm has seen the emergence of an abundance of new marketing opportunities enabled by internet trends such as web2.0 and the social media revolution. Soon the goal posts will move again with web3.0, sending us towards dizzying heights as data becomes intelligent and ultimately artificial intelligence is globally born. The first stage in this process is already happening and by 2020 the Semantic web will be as much a reality as email is for us today.
The Semantic web will see data becoming intelligent and it will be mined in the future by your online personal agent. This digitally cloned version of you will trawl the world-wide-web, find what you need and might be interested in and provide it to you at an opportune time. This future is radical and the changes are already happening. In this world you will need an agency that understands the new paradigm, its future and most of all its impact on your brand and marketing activities.
Aspire is such an agency. We will ensure your brand stays connected with your target audience quickly and cost-effectively in spite of these dramatic changes. We will adapt and assimilate your brand value to the online world with the Aspire connected brand portfolio of services.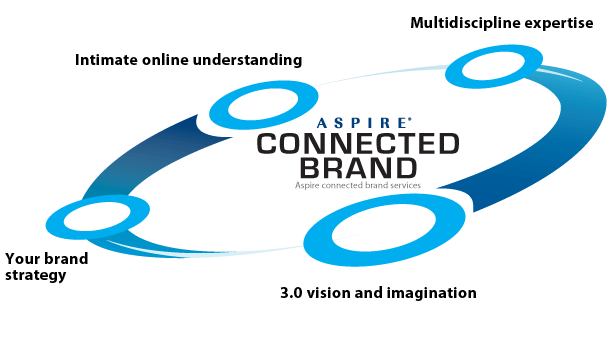 Connected brand
When you choose Aspire you do so with the reassurance that you have a company working on your digital material that not only understands the media intimately but also understands your brand strategy and how to connect this with new media.
Aspire will ensure your brand is connected, integrated and delivered across your online portfolio now and in the future.
Connected benefits of a Aspire services
Prepare for the future by getting on board someone who has the vision to see what's coming and understands the ramifications.
Make the most of the new age and new technology by using it in a strategicand integrated way.
Bridge your brand into the medium without losing what it stands for.
Integrate your offline material with your online presence.
Give your clients or consumers the impression your company understands and embraces the technology revolution.
Focus your spend to generate maximum return on investment in new media.
Deliver content that is appropriate to the new channels.